Wednesday, February 8th, 2012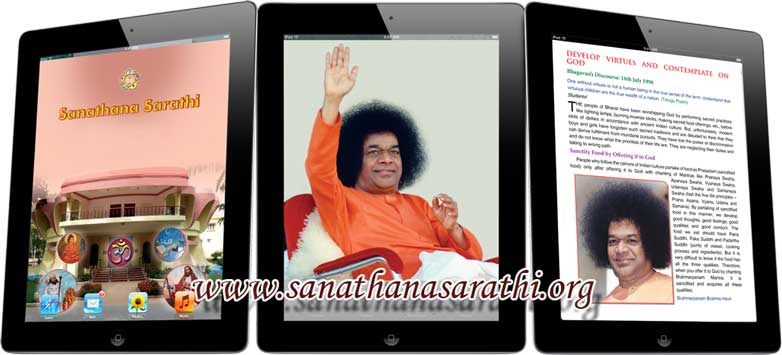 Started in 1958, Sanathana Sarathi [www.sanathanasarathi.org] is a monthly magazine devoted to Sathya (Truth), Dharma (Righteousness), Shanti (Peace) and Prema (Love) – the four cardinal principles of Bhagawan Baba's philosophy. It is published from Prasanthi Nilayam (the Abode of Highest Peace) and acts as a mouthpiece of Baba's Ashram as it speaks of the important events that take place in His sacred Abode, besides carrying Divine Messages conveyed through Divine Discourses of Bhagawan Sri Sathya Sai Baba.
One can visit the website [www.sanathanasarathi.org] to subscribe online for the printed magazine. Please use only Credit Card / Debit Card for transactions and it is mandatory for Credit Card / Debit Card to have Card Verification Value (CVV) number. Besides there are also electronic versions of the printed magazine available every month. One can order online the English version in Interactive Pdf format and/or ePub format and download the same to the computer. Please download Adobe Reader 9.0 or higher to view the Pdf.
ePub versions can be viewed in Apple Devices or by downloading ePub reader apps in Android, Blackberry and other smart phones and tablets. One can order photographs of Bhagawan and programme photographs by clicking on the photos in the ecopy.  A few other programme videos can be viewed online by clicking on the links in the top bar. Besides there are host of other features. The eCopy version is also available in Telugu in pdf format and can be ordered online through the website. Please visit www.sanathanasarathi.org for further details.
Posted in Announcements |