Sunday, March 20th, 2011
Heightened tempo in bhajans coupled with an escalated feeling marked the arrival of Bhagawan at 1925 hrs., granting darshan, this evening in this Abode of Supreme Peace, Prasanthi Nilayam.
…And as He moved showing His compassionate face, showering love all over, thousands filled in the Sai Kulwant turned ecstatic, raining bliss within.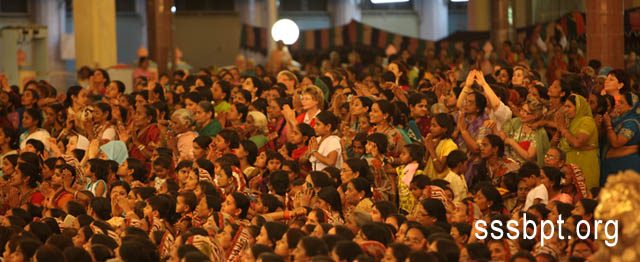 Holiday crowd ensured a packed audience and a festive 'holi' feeling was hanging very much in the air especially with a distinct group of men and women from the state of Bihar.
As His car inched along, it appeared there were many stakeholders in the evening at the ladies' side. His car moved at snail's pace, often stopping in between, and Bhagawan went on attending to many a pleading.
Devotees' frenzy peaked as He went for a second round. Many at the back stood on their feet to have a precious glance and when they screamed the sound melted with the loud bhajans. Stopping at the Vedam block Bhagawan blessed one of the students with interactions and, felicitating the whisperings, bhajans were muted for sometime. During the rounds, His hands went on tossing Vibhuti packets after every next point throughout His lengthy darshan round that took 25 minutes.
The twin rounds were over and Bhagawan was on the stage soon. Birthday boys were ready for The Lord and Bhagawan beckoned them. He blessed all of them including a bunch of tiny tots from Primary School spraying yellow rice grains. A couple of boys had some creative offerings for Bhagawan. Bhagawan blessed them, taking time going through same. His motherly love was for the world to watch, as He stroked at their cheeks in appreciation, a sign of His all conquering love for His children. To one of the boys, who had a colour painting of Revered Mother Easwaramma, Bhagawan had some suggestions about the painting, before blessing him, gesturing with a 'chaala santosham'.
Bhagawan sat on as bhajans continued. In between, Bhagawan sprinkled some of the yellow rice grains, that remained left on His lap, twice.
It was time for prasadam. As boys went unto Him with Laddu Parasadam seeking blessing, Bhagawan collected a few, one after one, giving the prasadam in person to some of the frontbenchers.
At 2020 hrs. Bhagawan indicated for Mangala Arathi. Blessing the concourse, expressing His satisfaction with a blossoming smile, Bhagawan left the dais and retired to Yajur Mandiram at 2025 hrs.
Sai Kulwant was ecstatic reminiscing the golden moments of the evening and so were the thousands filled in the blessed 'Divine Theatre' that was the chosen venue for The Lord in physical to walk among men, conferring His highest benediction, Divine Darshan!

Posted in Prasanthi News |