Friday, March 18th, 2011
This beautiful Friday evening's appointment with The Lord began at the twilight hour, at 1900 when Bhagawan emerged from His Divine Abode Yajur Mandiram. A full round of darshan ensued before Bhagawan alighting on the verandah in ten minutes.
A group of veteran leaders belonging to the RSS (Rashtriya Swayamsevak Sangh) led by veteran VHP leader Ashok Singhal welcomed Bhagawan as He alighted from His car.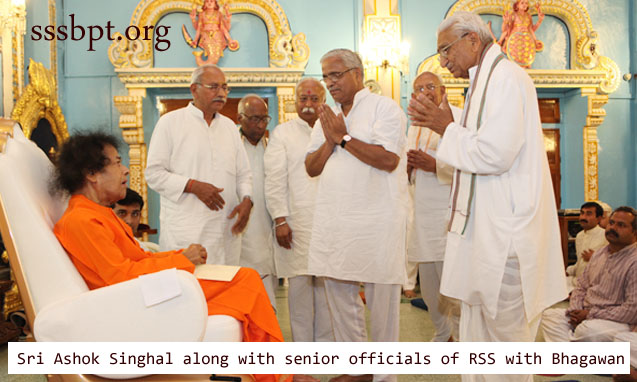 A group of over 50, including some women, belonging to all India and regional cadre of RSS and allied organisations, known as 'Adhikaris' was seated in the Bhajan Hall. The group was on a pilgrimage to The Divine Abode, as termed "Puttaparthi Pravas". Prominent members in the group included RSS Chief, Sri Mohanji Bhagavat, Former Chief Sri KK Sudarshan, General Secretary Suresh Joshi, Joint General Secretaries Sri Suresh Soni and Sri Datta Hosabale. Bhagawan moved into the hall and spent next fifteen minutes in. As Sri Ashok Singhal briefed, introducing the prominent faces in the group, Bhagawan sat listening to the veteran leader before moving amongst, blessing the group with closer darshan.

Coming out from the main entrance, Bhagawan blessed a few devotees before inching along though the lower verandah blessing many, including officials from Sri Sathya Sai Seva Organisations, Bihar, who had a prayer at His Feet to have Holi celebrations on the next day.
Coming on stage at 1930 hrs. Bhagawan blessed the audience for the next ten minutes with His Divine Presence on the stage. Even as He assumed His seat on the dais, gents from the the special group of over fifty came out of the hall to occupy the specially reserved slots on the right of Bhagawan.
At 1940 hrs. Bhagawan indicated for Mangala Arathi. After Arathi, blessing the audience, Bhagawan left the dais and retired to Yajur Mandiram at at 1945 hrs.

Posted in Prasanthi News |