Sunday, March 13th, 2011
Mother Sai was proud and He decided to felicitate His students for their stupendous achievements! There was a small intermission during the bhajans this evening when a dozen students were felicitated by Bhagawan for academic excellence at the national level.
Earlier, in the evening, Bhagawan came at 1815 hrs. for a full round of darshan. Coming on stage as Bhagawan sat officiating the session, a mini felicitation was brewing.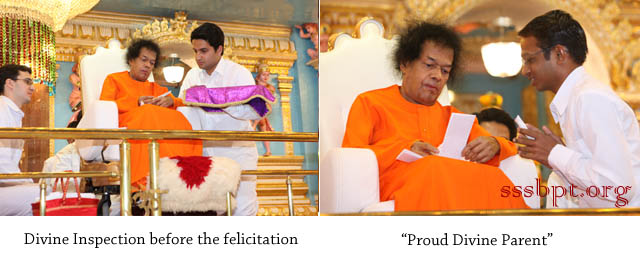 Twelve students from SSSIHL have been cleared for Junior Research Fellowships by CSIR, Council of Scientific Industrial Research, after coming out with flying colours in the national level eligibility test conducted by UGC, University Grants Commission. These students belonged to the departments of Physics, Chemistry. Mathematics and Bio-Science. Another student who has cleared NET, National Eligibility Test, for MBAs was also felicitated. As Prof. Anil Kumar called out their names, these students came on stage one after one to receive the 'priceless' gift from the Divine Chancellor.
Bhajans continued for some more time, until 1910 hrs. when Bhagawan indicated for Mangala Arathi. Blessing the assembly, Bhagawan retired to Yajur Mandiram at 1915 hrs. Blessed prasadam was distributed to the entire audience.

Posted in Prasanthi News |